Oscar's Road Geek Souvenir Collection -- page 8 (Other Hawaii)
Here are a few more souvenirs from my Hawaii road trips, other than those covered in the preceding Hana Highway souvenirs page, and also the Mauna Kea apparel on the High Roads page earlier in this collection.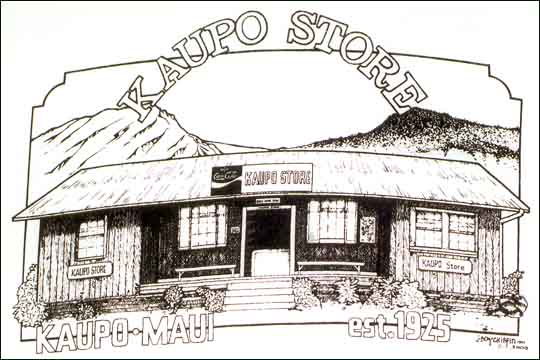 | | | |
| --- | --- | --- |
| | | Continuing past the end of Maui's Hana Highway will take you back to central Maui on part of the Piilani Highway, through the bleak landscapes south of the Haleakala volcano. After the twisty, narrow, cliff-hugging part, the road becomes straighter but also unpaved. The above design on the back of a T-shirt shows, in the middle of that four miles of unpaved road near milemarker 35, the historic Kaupo Store, one of the few outposts of civilization in that sparsely populated part of east Maui. The smaller design on the front of the shirt, left, emphasizes the quality of the road that gets you to the Kaupo Store. I bought the T-shirt there on my May 2005 visit to Maui. |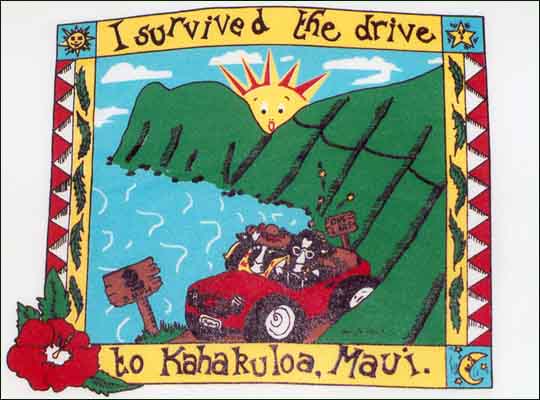 Another one of Hawaii's classic bad roads is on the opposite corner of Maui, the Kahekili Highway winding along the northwest coast. There aren't nearly as many souvenirs for, or tourists on, this lesser-known scenic drive as with the Hana Highway, but I got this T-shirt in May 2005 at the Kaukini Gallery along the highway east of Kahakuloa village.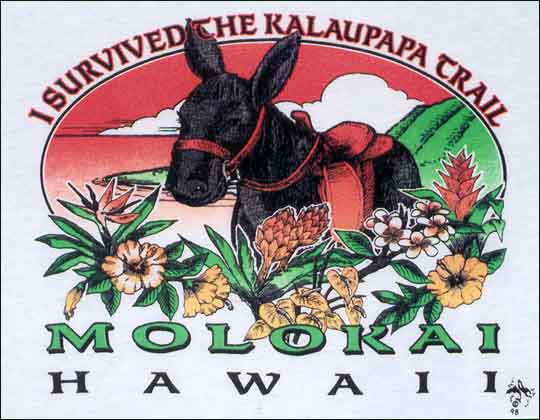 The north shore of Molokai island is famous for its remote Kalaupapa Peninsula (Kalawao County), where Hansen's Disease (leprosy) patients were once exiled, and still is home to a few dozen patients who chose to stay after the quarantine was lifted. The only land access is on a two-mile trail descending sea cliffs about a quarter-mile high. Some visitors hike down and back up the trail, but most ride mules. I did the mule ride on my first visit to Molokai in October 1999, but got this T-shirt on my return visit to Molokai in June 2005, at Molokai Fish & Dive in Kaunakakai.


The short-lived Hawaii Superferry inter-island auto ferry didn't start service until late 2007, but the company didn't wait to sell a wide variety of Superferry merchandise like this bumper sticker. I have this sticker on my car and on my pickup truck (if you see one on a blue Prius, or the bed cap of a silver pickup in the Washington DC area, it's most likely mine), since it baffles people on multiple levels. Some didn't realize that Hawaii ever had an auto ferry system. Others are thrown off by the H-4 logo, and don't think Hawaii has that many Interstates (it does, but the fourth Interstate is H-201 rather than H-4). Then there are the ones who didn't know Hawaii had Interstates at all. Whatever way, the sticker is good at making people say "huh?," which is exactly what I want from a bumper sticker ;-)


Before Hawaii Superferry started service, it changed its logo, figuring that manta rays would do better at moving product than a psuedo-Interstate shield, and perhaps also to defuse resistance to the Superferry on the outer islands among those who like the absence of Interstates on their islands. I bought a T-shirt with this design (and a hat, beach towel, and polo shirt with similar designs) on board when I traveled on the Superferry in January 2009, shortly before service was indefinitely suspended in March 2009.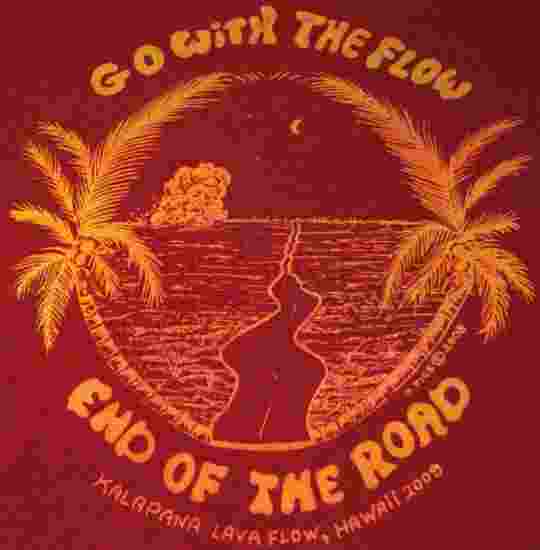 On the Big Island later that trip, I stopped by Hawaii County's lava viewing area at the end of the lava-shortened route 130, where if the Kilauea volcano is cooperating (it was when I visited) you can see lava flowing into the ocean, creating large steam plumes in the process. Several vendors set up shop at the end of the road when the viewing area is open, including Therese Tice, who designed and sold me this T-shirt (and gave me permission to reproduce the design here).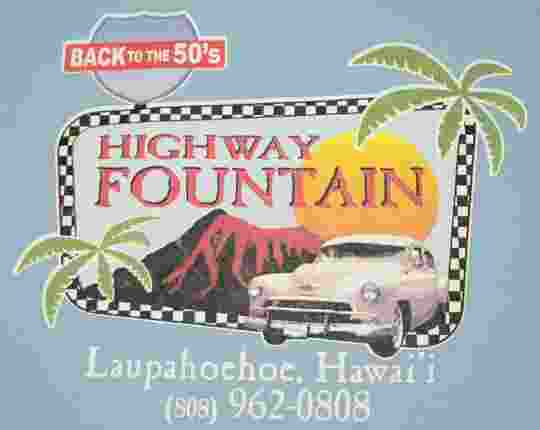 Later in January 2009, I grabbed a late lunch at this 1950s-themed diner, full of US 66 and Elvis souvenirs, on the old Mamalahoa Highway along the Big Island's northeast coast. The diner harkens back to the days when the Mamalahoa Highway was the main drag on that part of the Big Island, before it was bypassed by the faster Hawaii Belt Road (now part of state route 19) later that decade.
---
See also Introduction page, Page 1: Joe, Montana, Page 2: Nevada, Page 3: High roads (including one on Hawaii's Big Island), Page 4: Dalton Highway, Page 5: Alaska Highway, Page 6: Other Alaska, and Page 10: Miscellaneous

---
My Hot Springs and Highways home page
---
Any questions, comments, etc.? Please e-mail me.
This page, and all of the above images, are © 2005-2010 Oscar Voss, and may not be copied or otherwise reproduced or used without my permission except incidentally, in connection with viewing the pages on this site. Furthermore, all of the T-shirt and other designs pictured in those images remain © their respective copyright owners, all rights reserved, and their display on this site does not imply any right or permission to duplicate those designs for commercial or other use.