Oscar's Road Geek Souvenirs Collection -- page 5 (Alaska Highway)
All of the following are from my 2001 visit, except the bumper sticker and pin, which were from my 1994 visit.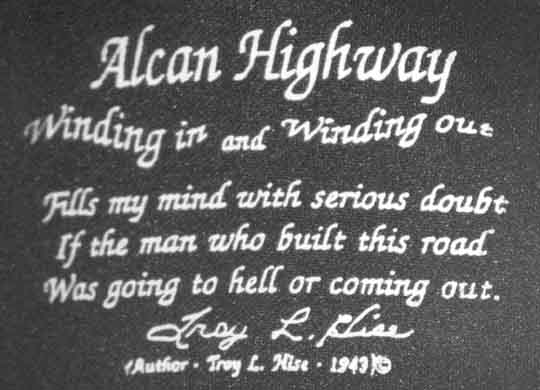 In my stop at the visitor center in Delta Junction at the northern end of the Alaska Highway, I got a hat with this famous poem about the Alaska (formerly Alcan) Highway (which is still pretty twisty, even though many stretches have been straightened out over the years). Another version of this poem sometimes seen on other souvenirs, which I prefer even if it is less authentic, replaces "If the man who built this road" with "If the lout who built this route".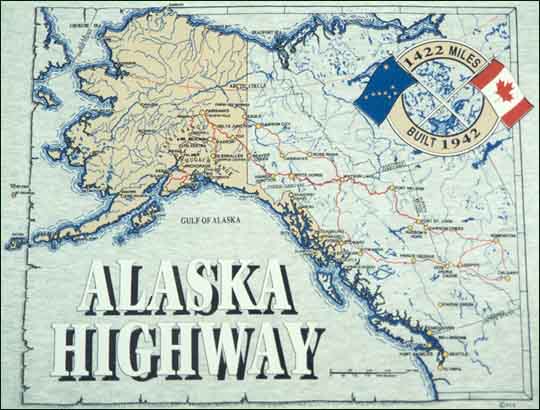 I also acquired this T-shirt during that visit.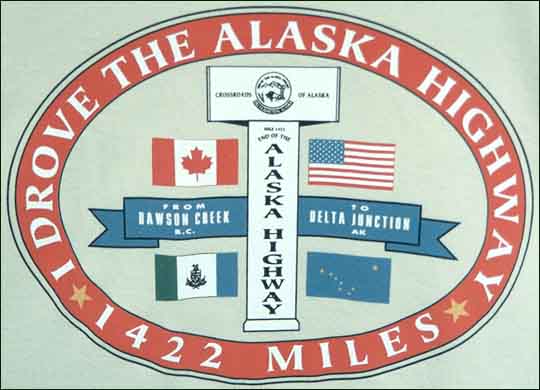 I wasn't able to buy this shirt in my size at the Delta Junction visitor center, because the T-shirt design has been discontinued (too bad, I like the design). The designer, who works at the visitor center, was kind enough to let me photograph the design from one of the remaining shirts in stock. This certainly underscores (as does the visitor center in general, and the surrounding road signage) that the Alaska Highway officially ends in Delta Junction, not Fairbanks.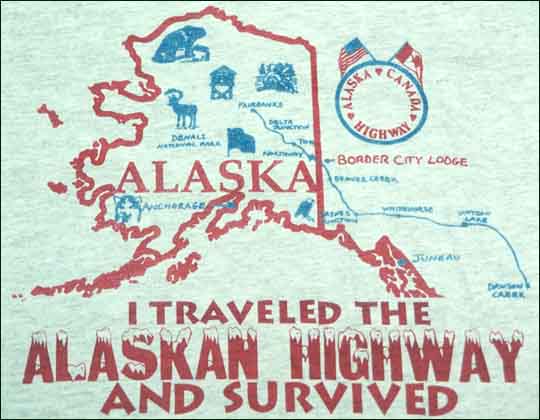 On my way back from the border in 2001, I did some more shopping at the Border City Lodge. This older design both misspells the highway name, and incorrectly places its northern end in Fairbanks (the road northwest out of Delta Junction is officially part of the Richardson Highway, rather than the Alaska Highway).


I placed this bumper sticker, from the Delta Junction visitor center, on the 1982 Honda Accord I drove to Alaska in 1994. It stayed there until the car was junked, five years and almost 60,000 miles later (though I did get a new car in 1996, for my later cross-country jaunts, which helped extend the life of my Accord).


I acquired this pin somewhere on my 1994 vacation, and
displayed it on the dashboard of the 1982 Accord I
took to Alaska, until it bit the dust five years later.

---
See also Introduction page, Page 1: Joe, Montana, Page 2: Nevada, Page 3: High Roads, Page 7: Hana Highway, Page 8: Other Hawaii, Page 9: Maritime Provinces, and Page 10: Miscellaneous
---
My Hot Springs and Highways home page
---
Any questions, comments, etc.? Please e-mail me.
This page, and all of the above images, are © 2001-07 Oscar Voss, and may not be copied or otherwise reproduced or used without my permission except incidentally, in connection with viewing the pages on this site. Furthermore, all of the T-shirt and other designs pictured in those images remain © their respective copyright owners, all rights reserved, and their display on this site does not imply any right or permission to duplicate those designs for commercial or other use.