Oscar's Road Geek Souvenirs Collection -- page 3 (High roads)
This page shows souvenirs from the three highest auto roads in the United States, the toll road to near the summit of Mt. Evans in Colorado (recalculated altitude of summit 14,270 feet, and of the end of the road about 14,150 feet), the toll road to Pikes Peak in Colorado (summit, and end of road, at 14,110 feet), and the toll-free but restricted John A. Burns Way to the top of Mauna Kea on Hawaii's Big Island (summit altitude of 13,796 feet, with the highest point on the road at 13,780 feet). I drove the roads to the top of Mt. Evans in 1991, 1996, 2002, and 2006; Pikes Peak in 1986, 2002, and 2006 (each of the last two visits one day after I re-did Mt. Evans); and Mauna Kea in 1999 and 2001.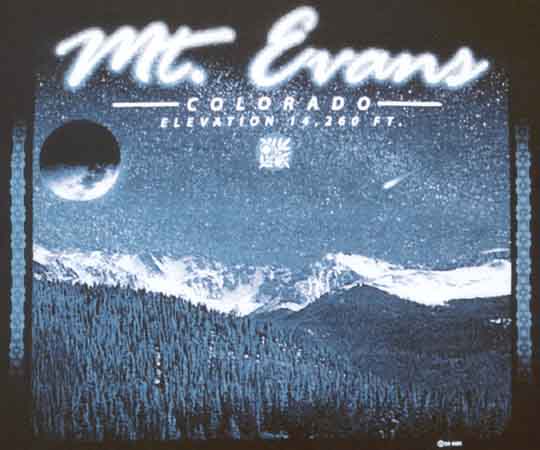 I got this T-shirt, along with the other Mt. Evans souvenirs shown below, at the Echo Lake Lodge gift shop at the beginning of the toll road. (I spent lots of money at that gift shop on all three of my visits to Mt. Evans. Maybe a subtle side-effect of low-level altitude sickness?)


Similar "Got Oxygen?" designs are available on sweatshirts, and for Pikes Peak. The Mt. Evans shirts now on sale show the newly-calculated summit elevation of 14,270 feet (some but not all of the other souvenirs have been redone with the higher altitude).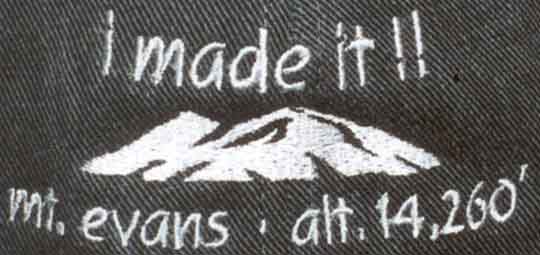 I also got a hat with this design, along with many other souvenirs.


This bumper sticker is one of the few souvenirs I found that focused on the road to the Mt. Evans summit. There are also some older souvenirs (including a hard-to-photograph glass, which I of course bought too) from the days when the road was claimed to be highest in the world (no longer true, if it ever was).


While all of these high roads have many steep drop-offs with no guardrails, only the Pikes Peak gift shops (at the summit and a few other places along the toll road) will help you brag about the tough drive to the top, with bumper stickers like this one or similarly-themed T-shirts. (They both come in women's versions, too.)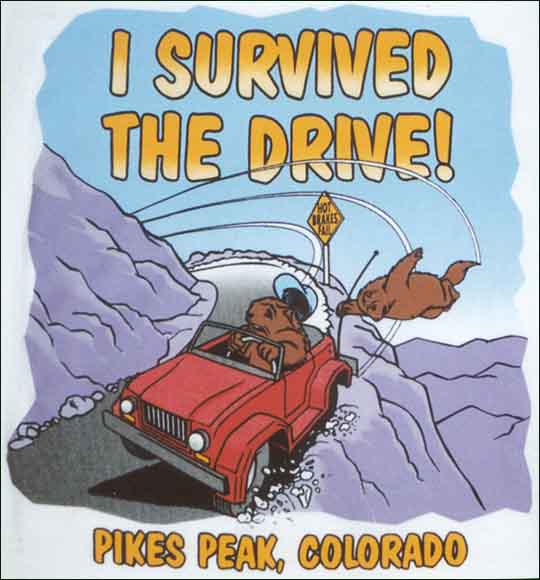 Also available from the gift shops, to help with the macho strutting, is this T-shirt, which is one of my favorites, as well as bumper stickers with a similar design. The shirt features some marmots (mascot critters of Pikes Peak), and a sign posted at several places to remind travelers what can happen if they disobey the warnings to descend in low gear.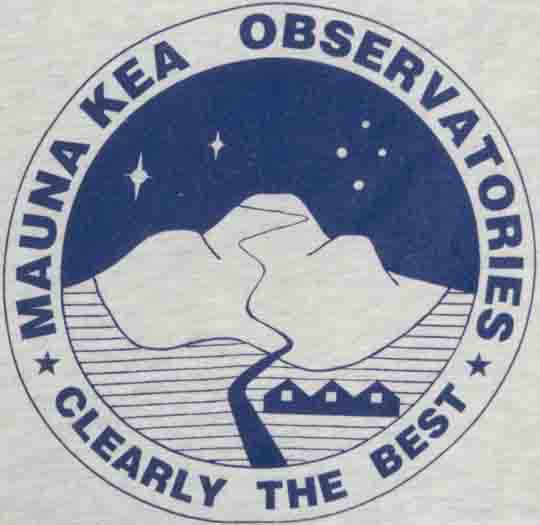 The slogan on this T-shirt, which I bought at the visitor center at Mauna Kea's base, reflects the unusually favorable conditions on the summit (clear skies, steady winds, little light pollution) that make it a favorite site for astronomers worldwide. Travel to the summit is limited to prevent interference with observations by all the telescopes up there, and also because of the steep and largely unpaved road (4x4 required) between the visitor center and the summit.
---
See also Introduction page, Page 1: Joe, Montana, Page 5: Alaska Highway, Page 6: Other Alaska, Page 7: Hana Highway, Page 8: Other Hawaii, Page 9: Maritime Provinces, and Page 10: Miscellaneous
---
My Hot Springs and Highways home page
---
Any questions, comments, etc.? Please e-mail me.
This page, and all of the above images, are © 2001-2007 Oscar Voss, and may not be copied or otherwise reproduced or used without my permission except incidentally, in connection with viewing the pages on this site. Furthermore, all of the T-shirt and other designs pictured in those images remain © their respective copyright owners, all rights reserved, and their display on this site does not imply any right or permission to duplicate those designs for commercial or other use.