Oscar's Road Geek Souvenir Collection -- page 9 (Maritime Provinces)
This page includes some of the road-related souvenirs I picked up at various places during my August 2003 road trip to Newfoundland and the other Maritime Provinces of Canada. The first four are for the long and spectacular new Confederation Bridge, the only road connection between the province of Prince Edward Island and the Canadian mainland. The next two are from the scenic Cabot Trail in northeastern Nova Scotia, along the northern coast of Cape Breton Island. The final two are from Newfoundland, at the end of my travels.



This bumper sticker's stylized illustration of the Confederation Bridge, connecting Prince Edward Island and New Brunswick since it was opened in 1997, emphasizes the high spans over shipping channels, and other curves designed into the bridge to help keep drivers awake on this very long bridge (about eight miles long). I bought this, and the two Confederation Bridge shirts that follow, at the Cape Jourimain visitor center at the western end of the bridge, which offers such a wide variety of bridge souvenirs that I had to restrain myself to keep the gift shop from completely draining my wallet on my way out of Canada.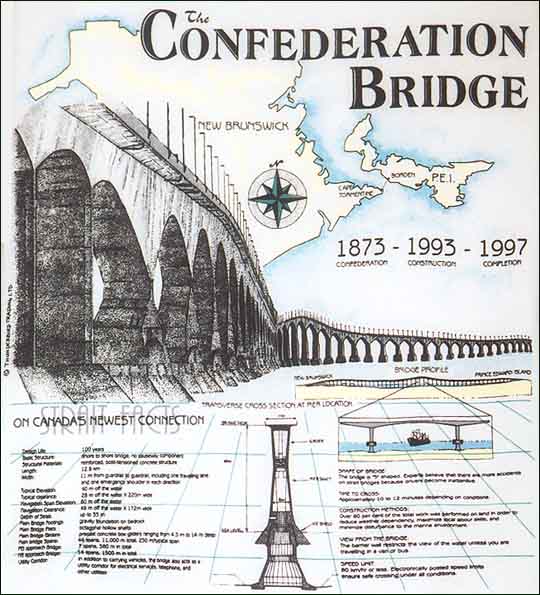 This sweatshirt is my favorite souvenir from the trip, providing both an illustration of the bridge and lots of technical details and other trivia (in type too small to reproduce here). Ladies, if guys start taking a really close look at your chest when you wear this, and they tell you that they're just trying to learn more about the bridge, they might be telling the truth ;-)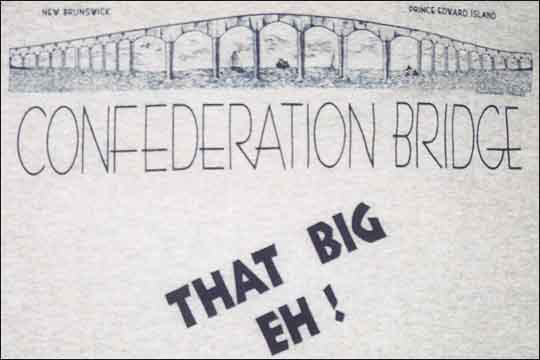 The simple design of this shirt emphasizes both the bridge's length, and its Canadian location.


Unlike the other bridge souvenirs,
I bought this keychain at the
duty-free store at the U.S. border
near Woodstock, New Brunswick, while
waiting for the store to process
my sales tax rebate.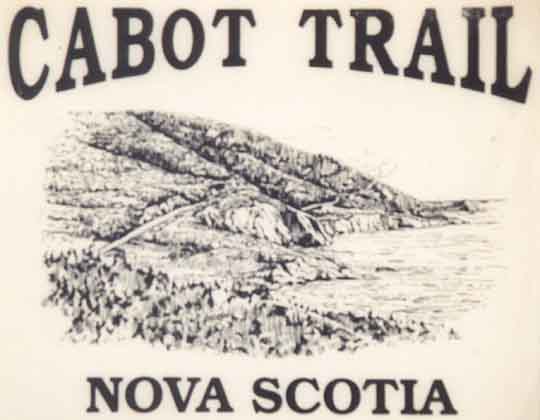 I got this totebag and bumper sticker of Nova Scotia's Cabot Trail at the Cardinal Points gift shop, in Pleasant Bay about midway through this 300-km route.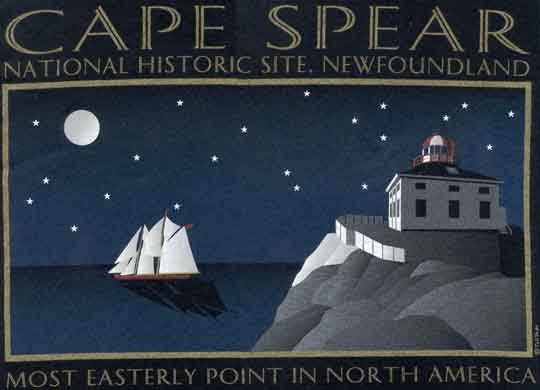 This shirt, from the Cape Spear National Historic Site gift shop southeast of St. John's, Newfoundland, emphasizes its location where North America ends (or begins, depending on your perspective).


Yes, really. The folks at the souvenir
shop there, where I bought this cap,
patiently but vaguely explain that Dildo
village (west of St. John's) must've been
named for some Spanish island, or
Basque sea captain, rather than a
"bedroom toy." But they certainly
don't mind the extra tourist traffic the
unusual name brings to this otherwise
unexceptional little fishing village.

---
See also Introduction page, Page 1: Joe, Montana, Page 2: Nevada, Page 3: High roads, Page 4: Dalton Highway, Page 5: Alaska Highway, Page 6: Other Alaska, and Page 7: Hana Highway

---
My Hot Springs and Highways home page
---
Any questions, comments, etc.? Please e-mail me.
This page, and all of the above images, are © 2003-07 Oscar Voss, and may not be copied or otherwise reproduced or used without my permission except incidentally, in connection with viewing the pages on this site. Furthermore, all of the T-shirt and other designs pictured in those images remain © their respective copyright owners, all rights reserved, and their display on this site does not imply any right or permission to duplicate those designs for commercial or other use.