Oscar's Road Geek Souvenir Collection -- page 6 (Other Alaska)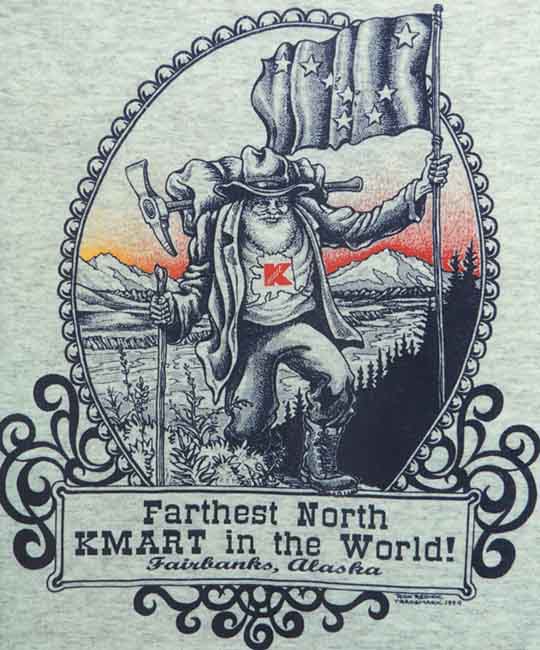 From my 1994 trip to Alaska, at the point where my resistance to souvenir-shopping started breaking down as I approached the Arctic Circle. (I looked for, but couldn't find, this T-shirt at the Fairbanks KMart when I revisited the city in 2001. Alas, that KMart -- as well as all the others in Alaska -- closed in early 2003.)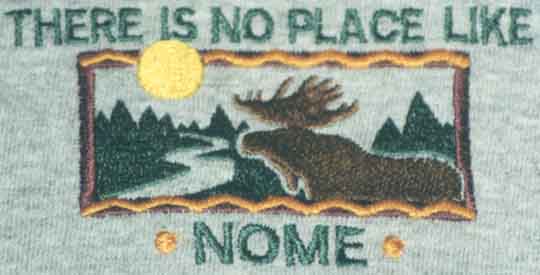 This T-shirt, from my 2001 visit to Nome, has the omnipresent town slogan.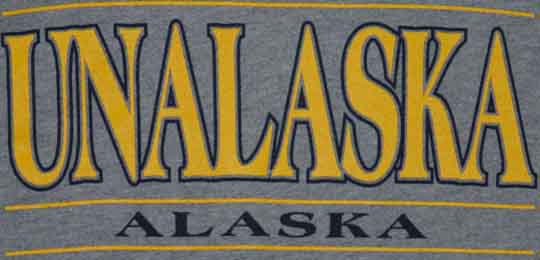 I got this sweatshirt at the gift shop in the Grand Aleutian Hotel in Dutch Harbor, mainly because it emphasizes the seemingly paradoxical city name of Unalaska. (The city is very Alaskan -- its name is how the Russian colonists mangled the original Aleut name Ounalashka.)
---
Not exactly a "roadgeek"-type souvenir, but one of my favorite T-shirts from Alaska is by the famous local fish-obsessed artist Ray Troll, on "The Perils of Nude Flyfishing" (PG-13 rated), which I bought in Sitka during my 2001 visit there.
Also, the T-Shirt from the Icy Waves surf shop I got as a souvenir for my 2007 visit to surprising surfing spot Yakutat in southeast Alaska (mouse over the female model to see the back of the T-shirt I got).
---
See also Introduction page, Page 1: Joe, Montana, Page 2: Nevada, Page 3: High Roads, Page 4: Dalton Highway, Page 8: Other Hawaii, Page 9: Maritime Provinces, and Page 10: Miscellaneous
---
My Hot Springs and Highways home page
---
Any questions, comments, etc.? Please e-mail me.
This page, and all of the above images, are © 2001-08 Oscar Voss, and may not be copied or otherwise reproduced or used without my permission except incidentally, in connection with viewing the pages on this site. Furthermore, all of the T-shirt and other designs pictured in those images remain © their respective copyright owners, all rights reserved, and their display on this site does not imply any right or permission to duplicate those designs for commercial or other use.