Oscar's Road Geek Souvenirs Collection -- page 1 (Joe, Montana)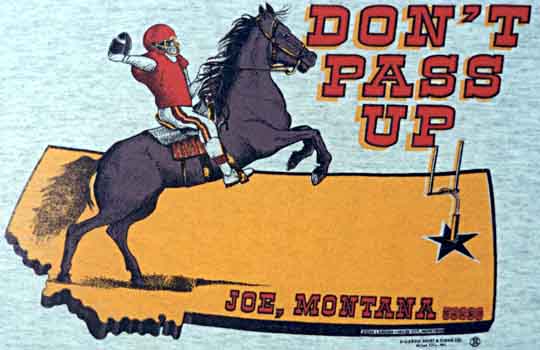 On the outbound (westbound) leg of my 1996 cross-country road trip, I stopped at the little town of Joe, Montana (shown on most maps as Ismay, which is also its name for postal purposes), on an unpaved road off US 12 in eastern Montana. The town renamed itself after the football star as a fundraising gimmick (and believe me, it really needed the money). When I revisited the town in 2006, it was still unofficially called Joe, and had apparently raised enough money for a nice new "Joe Montana Center" to house town offices and the volunteer fire department.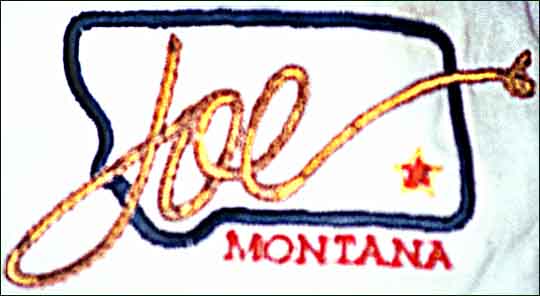 One of the other things I bought there was a golf cap with this design.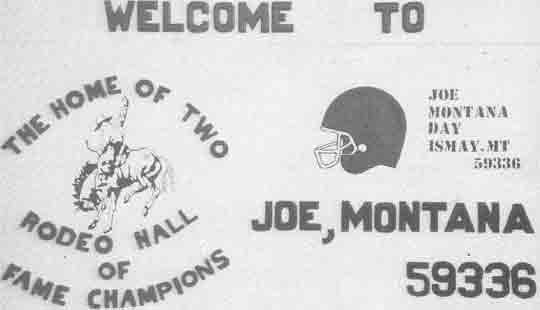 A postcard and stamped envelope, respectively, showing both names for the town, the "official" name Joe, and the old name Ismay, which is what the U.S. Postal Service still calls it.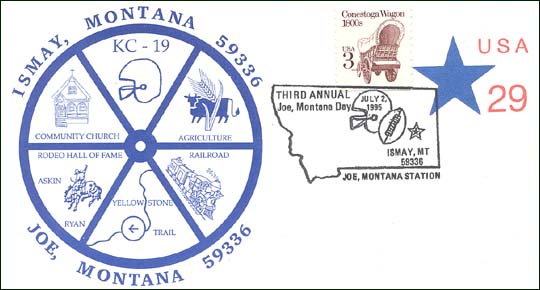 ---
See also Page 3: High roads, Page 4: Dalton Highway, Page 5: Alaska Highway, Page 6: Other Alaska, Page 7: Hana Highway, Page 8: Other Hawaii, Page 9: Maritime Provinces, and Page 10: Miscellaneous
---
My Hot Springs and Highways home page
---
Any questions, comments, etc.? Please e-mail me.
This page, and all of the above images, are © 2001-07 Oscar Voss, and may not be copied or otherwise reproduced or used without my permission except incidentally, in connection with viewing the pages on this site. Furthermore, all of the T-shirt and other designs pictured in those images remain © their respective copyright owners, all rights reserved, and their display on this site does not imply any right or permission to duplicate those designs for commercial or other use.